The Perfect Halloween:
A Girls' Weekend in Sleepy Hollow
by Robin Bonner
Prelude
Last fall, my friend Clare and I sought to set aside a weekend for some serious girlfriend time that wouldn't necessitate either of us enduring the requisite 6 hours of driving. (Clare's in Boston; I'm in Philadelphia.) What to do? Clare emailed me with the perfect solution: A Halloween in Sleepy Hollow.
I looked into it: Sleepy Hollow lies on the Hudson, adjacent to Tarrytown, NY, about a half-hour north of NYC and an easy 2–3 hour drive for each of us.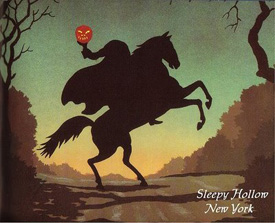 With the dual benefit of colorful foliage and the scenic view of the Hudson River, what a beautiful location for a fall rendezvous! And the area would add a very special twist for Halloween—it was the setting of the famous "Legend of Sleepy Hollow," by Washington Irving. You know the one: gangly teacher Ichabod Crane flees for his life from the (quickly gaining) headless horseman . . . a favorite of mine as a kid, but over the years, I had forgotten all about it.
Clare and I were just looking for a place to hang out and chat for a couple of days, but we found that and more—a locale interesting in many ways. First, that region of NY is dripping with history. Irving (1783–1859) spent much of his adulthood living in a cute little cottage on the Hudson called "Sunnyside." Up and down that same river, early Dutch settlers built manors and farms, many of which have been restored and are available for tours. Later, "Guilded Age" industrialists were also drawn to the area, because of its proximity to Manhattan, to establish estates and summer homes (and many of these, too, are open to visitors). Finally, centrally located in the Northeast, the Sleepy Hollow area also witnessed important historical events (especially during the American Revolution). Once we did our research, both Clare and I were intrigued to learn more about Sleepy Hollow, and nothing would beat being there and immersing ourselves in the local lore.
Tarrytown House
We met late on Saturday morning at the Tarrytown House, two adjoining estates originally built by tobacco and railroad industry tycoons that are now used as a hotel and conference center. (Hotels.com offered an amazing deal.) We wanted to avoid booking at a hotel chain, and this 26-acre property filled the bill.
Myriad buildings old and new sit atop a rolling hill that affords a distant view of the Hudson. It was difficult to believe we were just minutes from Rte 287 and the Tappan Zee Bridge. Our room was pleasant, although the path to it through the halls of the complex were convoluted. We vowed to check out the amenities later, for the day was Halloween, and we had some serious Halloweening to do.
Sleepy Hollow Cemetery
Giving ourselves only a day and a half in Sleepy Hollow, we needed to choose our activities judiciously. We both agreed that the Old Dutch Church Burying Ground was a must-see because it figures so prominently in the climax of Irving's story.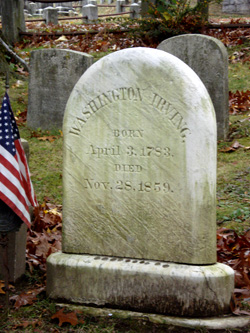 I, for one, am no fan of today's graphic Halloween horror films. But I thoroughly enjoyed re-reading Irving's tale about the "drowsy" residents of Sleepy Hollow; odd out-of-towner Ichabod Crane, who takes a teaching job there (and attempts to woo the local popular gal); and hearsay on Crane's adventures and fate the night of his disappearance. The story is scary in a light-hearted way (there's no blood)—just the right ambience for these two ladies.
With Google maps in hand, we made our way several miles north along Rte. 9, parked, and walked a short distance to the Old Dutch Church. Nothing could have been easier. There, at a little table on the sidewalk in front, we were lucky to grab two of the last spots ($15 apiece) for that afternoon's two-hour tour of the Old Dutch Church Burying Ground and adjoining Sleepy Hollow Cemetery. The elderly gentleman selling tickets turned out to be the groundskeeper and our tour guide. About 20 of us had gathered, and we soon ambled up the gravel path.
I glanced out over the 100 plus acres of hills dotted with vaults and monuments. How fitting it was that the somber gray sky hung heavy over trees in colors of orange, yellow, and red already past their prime, some framing the grave sites with bare, scraggly, beckoning branches! For I was standing in a cemetery in late October, in the late afternoon—and it was the Sleepy Hollow Cemetery. The feeling was eerily exhilarating. What an interesting place this was, I thought. How many times over the years had I passed over the Tappan Zee Bridge, without realizing all of this was here?
We learned that our guide was following in his father's footsteps as the facility's caretaker. The church ran the tours to supplement funding for the upkeep of the old graveyard from centuries-old "perpetual care" fees that inflation had whittled down to almost nothing. For many of the weathered gravestones belonged to original Dutch settlers, and others belonged to those laid to rest only a century or two later. If you'd like to visit an old cemetery, this is the one you want. And, who better to lead us through this maze of old markers than the man who cared for the property pretty much his entire life? In his New England drawl, he moved easily from story to story, and we were quickly able to get the flavor of the place.
With a twinkle in his eye, our guide told of every famous and infamous burial, from Samuel Gompers to Andrew Carnegie to Leona Helmsley to Brooke Astor.
Industrialists, philanthropists, and celebrities, as well as murderers and counterfeiters, are buried there, side by side in death, the great equalizer. Or not, I found myself thinking, as I took in the obvious opulence of some of the family sites—grand vaults and elaborate statuary—and compared it to some of more obscure, simply marked, and overgrown plots.
We were allowed to walk inside one crypt, and we peeked at bats hanging from the ceiling. In all, we walked more than a mile over rough terrain before heading back toward the Old Dutch Church along the Pocantico River boundary, just as the sun began to set. One could almost hear the beating hooves of Ichabod Crane's old nag, with the headless Hessian horseman in hot pursuit. For Crane was racing toward that same church, thinking it would give him sanctuary. He never made it. The late afternoon air had become chill, and I shivered in spite of myself.
The lively group grew quiet as we made our way toward the parking area. Thanking our guide, we turned our thoughts toward more pleasant things, like the dinner we had planned at the Striped Bass, overlooking the Hudson River.
Sunnyside
The next morning, we feasted on a luscious brunch (part of the hotel deal) in the nearby manor house and took in the view of the Hudson through picture windows. Afterward, we roamed the adjacent rooms and learned the history of the estate by reading the placards posted here and there.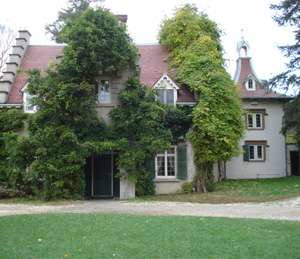 By late morning, we had checked out of the Tarrytown House and were parking the car at Sunnyside, Washington Irving's home, about a mile away.
The cheerful cottage overlooks the Hudson, its style modeled after the architecture of colonial NY, with Spanish and Scottish influences, which lent it and its gardens an almost storybook-like air. The life of the famous lawyer, diplomat, and author unfolded (Irving also penned "Rip Van Winkle" and other short stories, as well as substantial histories and biographies, including the well-known Life of George Washington) as our guide, in period dress, led us through the elegantly appointed house. (The 45-minute tour costs $12 for adults and $4 for children.)
Irving, a bachelor, shared the house with his widower brother Ebenezer and Ebenezer's several unmarried daughters. So, after his trips abroad, Irving had a warm and loving family to which to return. And, he was surrounded by this loving family when he died in 1859, subsequently leaving his ample estate to them. The site (together with several others) is managed by the organization "Historic Hudson Valley," (originally founded by John D. Rockefeller as the education organization "Sleepy Hollow Restoration"). Tours are given daily, with special candlelit events in December.
Lyndhurst Castle
Our final destination in our exploration of Sleepy Hollow, just to the north of Sunnyside and also overlooking the Hudson, was Lyndhurst Castle, a study in contrasts to Irving's modest "cottage." Architect Alexander Jackson Davis designed the mansion in the Gothic Revival style in 1838, and additions were made over the next century by the three prominent families who, in turn, took ownership of the 67-acre property.
As Clare and I made our way up the winding driveway and caught our first glimpse of the manor house, we were struck by its massiveness—it truly was a castle—and by the eeriness of its gothic spires in the afternoon sun.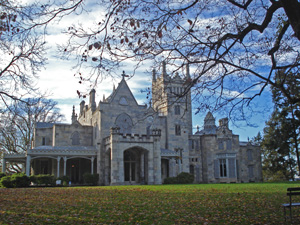 It seemed to belong to another time and place. And, at times it did: Lyndhurst served as the set for the 1970 and 1971 film versions of the 1960s vampire soap opera Dark Shadows. This was an interesting twist that further enhanced our Halloween experience.
Our tour of the house began, and for that short time, we enjoyed vicariously the opulent lifestyles of its owners—the Paulding, Merritt, and Gould families—while learning Lyndhurst's history and secrets. Former NYC mayor William Paulding first purchased the property, which he simply called "Knoll," and hired Davis to design and build it. (Others called the main house "Paulding's Folly" because of its unusual design.) Davis designed some of the furniture as well.
Davis also increased the size of the mansion in 1864 for its new owner, NY merchant George Merritt, who renamed it "Lyndenhurst," after the linden trees peppering the property. In 1880, after Merritt's death, railroad tycoon Jay Gould bought the estate as a summer home and shortened its name to "Lyndhurst." Gould added an enormous greenhouse, the frame of which still stands. He also collected and displayed paintings by 19th century French artists Corot, Courbet, Bourgeureau, and others, using the residence as an escape from the pressures of overseeing his expansive business empire. As Clare and I walked through the halls, we learned of the infamous and eccentric robber-baron's colorful history and enjoyed our knowledgeable tour guide's take on the happenings in Lyndhurst's past.
At Gould's death, the estate passed first to his daughter Helen, who managed its affairs until her death in 1938, and then to Gould's younger daughter, Anna, Duchess of Talleyrand-Perigord, who returned from France to run things until her death in 1961. At that time, Lyndhurst passed to the National Trust for Historic Preservation, which manages it today. The buildings and grounds are open to the public, but if you can't get there, you can take a virtual tour.
Goodbyes
All too soon, it was Sunday evening, and time for Clare and me to get back to Boston and Philadelphia, respectively. Next time, we swore, we'd make it to the "Great Jack O'Lantern Blaze" at nearby Van Cortland Manor (which boasted 4,000 carved and candlelit pumpkins), and perhaps we'd spend more time looking around the shops of Tarrytown. But there were no regrets—we did a lot, learned a lot, and spent a lot of time together, just what we set out to do on that memorable Halloween weekend.
---
Robin Bonner is editor of Empty Nest. For more about Robin, see About Us.