Real People Empty Nesting:
Meredith Birchall, Creating Her Best Image
By Robin Bonner
When we look our best, we feel our best, right? If you don't believe it, then Meredith Birchall is the person to convince you. Although her college education focused on communications, a summer job led to a career in retail and then to her life's calling: helping women find their best image—one that will give them the confidence they need to lead their best life.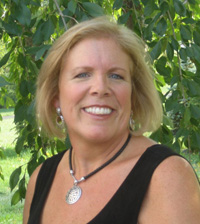 As an impending empty nester (her children are 13 and 16), Meredith has helped many an empty nester reenter the job market (and many an empty nester's daughter look good for her first job interview). She counsels corporate women of all ages to help them find their "look for success" and even helps cancer survivors look and feel better while managing their illness. Those who meet Meredith are quickly won over by her friendliness and her willingness to help. From community education classes to spa parties for girlfriend groups to a new retail store (Your Best Image) in Harleysville PA, Meredith does what she can to help those around her look and feel good.
EN: Meredith, what was your childhood like? Siblings? Parents? What interested you in majoring in communications in college?
MB: I had a great childhood. I grew up in Blue Bell, PA, with my two younger brothers in a house my father built. My mother was a stay-at-home mom until my youngest brother was in high school. She then went to college and earned a degree in health and human services. She taught me that everyone is equal and that we should respect others and treat them the way we would want to be treated. Being the "ham" that I was, I became interested in modeling, acting, and communications. I went to school thinking I might like to be a reporter or radio personality.
EN: How did you come to take a side road into the retail and cosmetics industries? How did this decision lead you to where you are today?
MB: During one of my summer breaks, I decided to work for Hess's department store. Before I knew it, I was promoted to manager of the junior department, then manager of misses sportswear. Soon I was an assistant buyer of ladies' blouses. I was in that position for about a year, taking buying trips to New York City and interacting with all the stores for which I was responsible. I was then offered an assistant store manager position at the Hess's in Plymouth Meeting PA. Every time I thought about going back to school, they promoted me. Finally, a position with Estee Lauder cosmetics, servicing all the Hess's stores, opened up. I jumped at this opportunity because I always loved cosmetics. I did all the hiring, training, and special events for 42 stores.
EN: How did your family life evolve? How did you meet your husband? What is his career field? What are your shared interests?
MB: How I met my husband is an interesting story. I had been married before (for two years) and was not meeting many men in the cosmetics industry. My mother suggested I join a dating service called "Great Expectations." With their program, you choose the person you would like to date. I was like a "kid in a candy store," choosing several guys. My husband and I hit it off immediately and the rest is history. We both enjoy the outdoors—biking and hiking—and spending time with family. He is a field service engineer but is much better with people than machines. I think he wishes he had taken a different career path and followed his dreams.
EN: What about your kids? What are their interests? Through the years, how have you managed to juggle career and family?
MB: I have two children. My son is 16 years old and is an honor student who would like to major in international business. He loves the computer, creating computer games and films, playing his guitar, and learning to drive (yikes!). My daughter is a 13-year-old "mini me." She loves fashion, makeup, and playing with friends. She also enjoys basketball and would love to be a famous singer someday. I was fortunate to have had my own business for the past 20 years; this enabled me to attend my children's grade-school activities and parent/teacher events. I had worked night and weekend hours for many years in retail, but having my own business allowed me to work when I chose to.
EN: As you approach an empty nest yourself, how do you see yourself handling it? What do you dread? What do you look forward to? What advice do you have for empty nesters?
MB: I really look forward to my life when my children go off to college. I love them and support them but when they are grown, I feel I will have so much more freedom to do the things I would like to do without having "mommy guilt." We do so much for our children that I think we can sometimes lose ourselves in the process. What do you really enjoy? What projects have you put on a back burner and never have time to complete? When the children leave, you finally have the opportunity to take time for yourself. Spend time with girlfriends. My friends bring so much joy to my life. Make time for those girls' nights out. Women can be so much more fun than men! I plan to dance, eat, see movies, create scrapbooks, attend craft shows, sip piña coladas at the beach, exercise . . . the possibilities are endless! This is your time!
---
Robin Bonner is editor of Empty Nest. For more about Robin, see About Us.