Marriage on the Rocks:
Get Out of the House—Go Climb a Rock
by Robin C. Bonner
The Prequel
They say it takes two to tango. Well, it takes two to climb rocks, as well.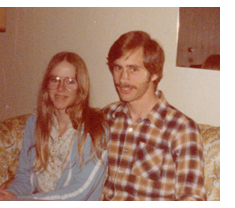 When Gary and I met, we were juniors in college. I had just transferred from another school. He was president of the Outing Club, a mecca for hikers, campers, cavers, and rock climbers. Other than family car-camping expeditions, I hadn't much experience with such adventures. But I was game to try them, especially climbing. Gary was a knowledgeable, kind, and patient teacher. And he practiced safety above all else. Leading dangerous activities can tell a lot about a guy. That, coupled with Gary's quiet demeanor and dark good looks, and I was smitten. We began to date and eventually married.
Happy Birthday
Fast forward 30 years. Gary and I developed our careers and raised our two children. Although we always loved the outdoors and spent a good bit of our time there, with parenting responsibilities, our pursuit of risky sporting adventures fell by the wayside. Gary's 49th birthday changed all that, however. I was looking for a fun yet inexpensive activity to surprise him with on his special day. A friend, Donna, offered two free passes to the local rock gym. I thought, "Hmmm, that sounds like an excellent idea!" Gary hopped in the car for what I told him would be a "mystery car ride," and when we pulled up at the Philadelphia Rock Gym, boy, was he excited!
We walked inside, not knowing what to expect. We had always climbed outside—on rocks. These indoor rock gyms became popular long after we had last been climbing. What we found was a relatively small establishment (about 35 feet wide by 140 feet deep), but with 35-foot-high ceilings. Roped climbers lined the three walls near the doorway, and their belayers (be-lay'-ers; those who control the ropes that would catch them if they fell) stood below them. Toward the back of the gym, to the left, mats covered the floor under overhanging "rocks," where the adventurous "bouldered," untethered: grabbing rock after rock and pulling themselves up until they reached the top (or fell onto the mats below). The place buzzed—the children's competitive team practiced, and parents watched, read a book, or donned a harness and climbed themselves while they waited. The young and the not-so-young climbed side by side. Everyone appeared to be seriously engaged yet having a good time.
To our right, a young man and woman "manned" the front desk, checking in new arrivals on a computerized system, doling out rental equipment (shoes and harnesses), and dispensing sage advice beyond their years. Ian welcomed us and signed us in as Donna's guests. Gary and I each rented (for $5) a climbing harness (which looks like a glorified seatbelt, but circling both the waist and the thighs) and special climbing shoes that fit snugly and have rubber around all the edges. The harness is used to attach yourself to the rope (it's a piece of safety equipment you "tie in" to), and the shoes (which you wear without socks) make it easier for your toes to hug the rock. We put our coats in the cubbies in the locker area, strapped on our harnesses, and donned our new shoes. We were ready!
Safe, but Not for the Faint of Heart
We found Donna. She had offered to belay us on our first night. The gym requires belayers to be trained and tested. We were just starting out and so weren't certified to belay each other. (Here's how belaying works: The climber ties onto one end of the rope, which is routed through a hook at the top of the wall, back down to the belayer, and through a locking device called a grigri (gree'-gree). The belayer takes up the slack in the rope as the climber moves up the wall. If the climber falls, the grigri clamps on the rope and catches him or her.) The Birthday Boy tied his harness onto Donna's rope. Up the wall he shot! Donna stood below, gently taking the slack out of the rope. Once Gary reached the top, he signaled Donna, and she lowered him down. A big smile on his face, he disengaged himself from the rope. Gary had led many climbing trips with the Outing Club, and things came back to him quickly. This was child's play.
Even after 30 years, my relatively inexperienced fingers also remembered the drill:
1. Double check your climbing harness, to make sure it's fastened properly and the rope is attached securely.
2. Call "On belay!" and "Climbing!" before you begin (to warn the belayer to be ready—your attention to safety must be paramount).
3. Keep 3 points (2 hands and 1 foot, or 1 hand and 2 feet) on the rock at all times, at least as a beginner.

What an adrenaline rush when I hit the "rock" for the first time! But I'm naturally afraid of heights, so those feelings came back, as well. As my feet left the ground, I found myself panicking. With each step, I was getting farther and farther away from the ground! My fingers were tingling (as they are right now, while I'm writing this). I was tied in at the waist to the rope Donna was holding, so if I fell, I would drop only a foot or so before the grigri stopped the rope. Still, I didn't like the idea of falling at all, so I was doing my best to avoid it.
Soon I talked myself into just thinking about each move. I became aware of my muscles—a number of them were getting a workout, especially the ones I didn't remember I had. As I ascended the wall, I left the noise of the crowd below me. It was beautiful. I found myself instinctively doing my "Pilates breathing" (inhaling deeply, then exhaling as I reached for a hold), to gain that extra inch of distance. I used whatever holds I wanted to the first time, whatever was easiest. Today, I decided, I would just climb up the "rocks" to the top. With that in mind—achieving my goal, one step at a time—thoughts of the distance between me and the floor drifted from my mind. I found myself attaining more than I thought possible, all at the end of a rope, on a lark, on Gary's birthday.
Getting Specific
The climbing routes in an indoor rock gym are a series of plastic hand- and footholds of various shapes screwed into the walls and color-coded with tags for difficulty. You choose which one to use. For instance, one climb has white tags (tape) below each hold. The climb is rated 5.7 (on a scale of 5.4 to about 5.14; see sidebar). The tougher climbs have smaller holds, or holds that are widely or oddly placed, and are marked with a higher number. The easier climbs have "buckets"—large holds that you can really hang onto. They are close together and the climb has a lower rating. Buckets are always fun to come across.
If you do the "white" climb (the 5.7) using only those white hand- and footholds (and none of the holds of other colors located nearby), when you reach the top, you've completed a 5.7 climb. Then you rappel down to the floor. (You're really lowered down. The belayer's equipment controls your descent, and you just walk down the rock.)
On my first climb, I completely disregarded the color coding. My goal was to get to the top anyway I could. I quickly found myself challenged by various routes, though, and began to choose color-coded climbs—just to see what I could do. Gary and I soon parted ways on the difficulty of the routes we sought. He is taller than I am and could grab holds spaced farther apart. Regardless of the route we chose, Donna belayed us, and we watched and encouraged each other as we climbed. Time flew.
---
Climb Rating Systems: The Yosemite Decimal System Subdivisions
of Class 5 Climbing

In Mountaineering, Freedom of the Hills, Fourth Edition (the book is now in its seventh edition), editor Ed Peters (with tongue in cheek) explains the subdivisions of class 5:
The experienced climber, having accomplished or attempted free climbs of varying degrees of difficulty in the YDS class 5 range, gains an understanding of the level of difficulty involved. To the beginner, however, these ratings are simply a set of numbers, understandably, easy if rated 5.0 and impossible if rated 5.13. To provide a slightly better understanding within the class for the beginner, the following tongue-in-cheek description is provided:
5.0 to 5.4: There are two hand- and two footholds for every move; the holds become progressively smaller as the number increases.
5.5 to 5.6: The two hand- and two footholds are there, obvious to the experienced, but not necessarily so to the beginner.
5.7: The move is missing one hand- or foothold.
5.8: The move is missing two holds of the four, or missing only one but is very strenuous.
5.9: The move has only one reasonable hold, which may be for either a foot or a hand.
5.10: No hand- or footholds. The choices are to pretend a hold is there, pray a lot, or go home.
5.11: After thorough inspection, you conclude this move is obviously impossible; however, occasionally someone actually accomplishes it. Since there is nothing for a handhold, grab it with both hands.
5.12: The surface is as smooth as glass and vertical. No one has really ever made this move, although a few claim they have.
5.13: This is identical to 5.12, except it is located under overhanging rock.

---
Wanting More
There was so much to remember and to learn about climbing, and we wanted more. At the end of the session, Donna asked if we were up for coming back the following week. Of course, we were! We left for the evening, but only after we had gathered information on becoming members.
Gary could buy a single membership for $48 per month, and I could be added for only $20 more. (I already belonged to a local fitness center, but he'd need me to belay him, and we began to talk of becoming certified.) If we went once a week, even if we purchased our own harness and climbing shoes (at about $35 to $50 for the harness and $50 to $130 for the shoes—see links below), we'd spend $10 apiece for a day pass, or $80 per month. If we liked climbing enough to make a once-a-week commitment, a family membership would be the way to go. The membership also gave us 12 guest passes, a discount on gear, free lessons, and other perks. The holidays were just around the corner, which clinched the deal. Our Christmas stockings would be stuffed with climbing shoes and harnesses! Before we knew it, we were members of the Philadelphia Rock Gym.
So what began as an inexpensive way for Gary and I to spend his birthday morphed into a new regular couples activity for us. It's been more than a year since we joined PRG. No matter how busy life gets, we put aside one evening a week to head to the rock gym. We've befriended other "older adults" there. Deb and John have been climbing for a number of years, Donna for just a couple. We've invited some of Gary's work friends and introduced them to climbing—donating our guest passes and belaying talents (yes, we passed the test!). Finally, we've taken our kids there when they're around, and are they impressed! It's a year-round sport, independent of weather. We're now talking about buying a rope and taking it outside this summer. See you on the rocks…
Links
For climbing harnesses, shoes, and other equipment:
REI—Recreational Equipment, Inc.
Mountain Gear
Gear.com


For info on climbing technique and indoor climbing locations:
indoorclimbing.com


For info on Rock Climbing Equipment and Techniques (This one has great illustrations.)
---
Robin C. Bonner is editor of Empty Nest. For more about Robin, see About Us