GENERATIONS
Excerpt from
Letters to Sam: A Grandfather's Lessons on
Love, Loss, and the Gifts of Life
"Aunt Sharon's Secret"
by Dr. Daniel Gottlieb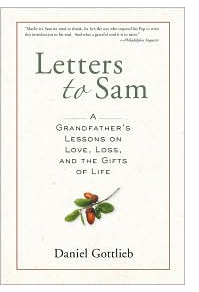 In 2006, Dr. Daniel Gottlieb, Philadelphia psychotherapist, columnist, radio personality, and author, published Letters to Sam: A Grandfather's Lessons of Love, Loss, and the Gifts of Life. Dr. Gottlieb and Sterling Publishing have once again graciously granted Empty Nest permission to reprint a chapter from the book. "Aunt Sharon's Secret" offers another of Dr. Dan's "pearls of wisdom"—how altruistic love, love simply for the sake of the other, can enrich our own lives, as well as the lives of others, when we practice it. Gottlieb (a quadriplegic due to a freak accident years ago) wrote the book for his autistic grandson—a beautiful empty-nesting gesture, passing wisdom from one generation to the next—but the lessons he imparts can benefit readers of all ages.

Reprinted with permission of Sterling Publishing Co., Inc., from LETTERS TO SAM by Daniel Gottlieb. Copyright © 2006 by Daniel Gottlieb.
Dear Sam,
Recently, Case Western Reserve University in Cleveland created a research program called "The Institute for Research on Unlimited Love," in which much of the focus is on the study of altruistic love. Altruistic love means giving to another simply out of compassion. Not because you think you should. Not because you feel responsible for the other person, or because you wonder what someone else can do for you in the future, or because your charity will help reduce your taxable income. Altruistic love is simply for the sake of the other. The studies at this institute have shown that this kind of love—which is the most pure—is also the most healing.
Did it take an academic institute to teach us that this kind of love is valuable? I think not. We hear about it from the Hebrew Bible. The teachings of Jesus, Muhammad, and the Buddha say the same thing: Giving to others is the most precious when it is done quietly and selflessly.
*
If you'd come along a little sooner, you would also have known my sister, your aunt Sharon. I wish you could have. She was a gentle teacher, cut from the same cloth as the greatest teachers in history.
My sister was five years older than I. Like most younger siblings, I idolized her and I was terribly jealous. She was older, pretty, smart, and had lots of fiends. I was just a dorky little kid. So, because I was envious, we fought when we were young. She always won.
I remember the time when she and her friends were babysitting me. I was getting on their nerves and they convinced me to eat a whole box of chocolate-flavored laxatives so I wouldn't annoy them anymore. When the laxatives went to work, sure enough I stopped bothering my sister. But when I later figured out what she'd done, I vowed to get her back for that!
I was about fifteen years old before there finally came a day when I was big enough and strong enough to stand up to her. I'll spare you the details—but anyway, I won the fight, and it turned out to be our last. After that, neither one of us had anything to prove to the other. I was stronger and she was smarter and that was that.
Somewhere along the way, Sharon became my confidante. She knew about the time I smoked a cigarette, and she knew when I lost my virginity. After I got married, and we realized we were both adults, we grew even closer.
The years passed. Then there came a time when my wife—your grandmother—was diagnosed with cancer. I felt terrified and alone. But I discovered I wasn't. My sister was there.
Many years later, when your grandmother and I decided that our marriage was not going to work, it was Sharon's opinion and companionship that I valued more than anyone else's.
Then, a couple of years before you were born, my mother called to tell me, "Your sister's been getting a lot of headaches, and I'm worried." I didn't think much about it, because my mother worried about everything. By the third phone call, however, I too was concerned.
Preliminary tests told us that Sharon's headaches were probably caused by a benign growth in her brain. The doctors wanted a biopsy. Her husband, her sons, and I all accompanied her to Columbia University Medical Center in New York. After we'd waited several anxious hours, the doctor came out.
David, Sharon's husband, was standing to my left and her sons were behind me when the doctor reported his finding. "It's a glioblastoma," he said. "It's not curable. She has a life expectancy of eighteen months."
In my breathless shock, I watched David's knees buckle just for a second, as though he's ben punched in the solar plexus.
One hour later, when I visited my still-sleeping sister's bedside and held her hand, I began to write her eulogy.
*
The doctor was right. Sharon lived about eighteen months, and everyone who knew her and loved her watched her slip away day by day.
But I still had more to learn about her.
On the last day of shiva, the traditional mourning period, when people stopped visiting and we began to put the house back the way it was before Sharon died, there was a knock on the door, and in came a man I had never seen before. He had met your aunt Sharon many years before, when she ran a very prosperous temporary employment service and a full-time employment agency.
When Sharon decided to sell the employment agency, this man bought it from her. Afterward, they would occasionally meet for lunch and talk over how the business was going.
As it happened, shortly after the man bought the business, the economy took a turn for the worse. The employment agency was hit very hard. Meanwhile, Sharon's temp agency was flourishing. Because she and this man were still meeting for lunch from time to time, she knew what hardships he was going through. As his anxiety and depression got worse, his marriage suffered and his self-esteem sank lower and lower.
One day, at lunch, the man was in despair. He didn't see how he could keep going, and he was bracing himself to cut his losses and get out of the business.
Just as they were about to leave, Sharon got out the key to her temp agency. She slid it across the table to him. "It's yours," she told him.
No one in our family ever knew anything about it.
"She saved my marriage," this man told me at shiva. "She saved my life."
*
I wonder what Aunt Sharon would say to you if she could tell you this story herself.
I think I know. I think she would say, "I was blessed because I was able to do that."
That is altruistic love. That's what the great teachers knew, and it's what Sharon showed to that man, to me, and now to you. Giving to others is most precious when it is done quietly and selflessly. She gave him her business because he suffered and she had a way to diminish his suffereing. That's all.
*
Eight hundred people attended her funeral. In my eulogy I told them all about her work for women's rights and Jewish causes, and I asked them to respect her by respecting what she believed in. I told them, in addition, to please take care of the earth, the water, and the air, because, I said, "Sharon lives there now."
Even now, eight years later, I miss her every day. I am grateful for everything she taught me, during her life and even after her death. And I try to practice her lesson of altruistic love every day.
Love,
Pop
---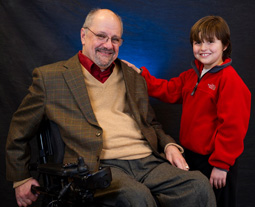 Dr. Dan Gottlieb's work last appeared in the summer 2009 issue of Empty Nest.