STYLE
Mom Style: Why Do Our Mothers Dress
Like Children?
by Patricia McLaughlin
"Did fashion, which made sense when they were girls, alienate them with its outrageous displays and bad fits? Or is it something worse?"
Krista Mays, 22, is one of six young women Glamour magazine rescues from the heartbreak of wearing the wrong jeans next month. She's "straight up and down," so the magazine prescribes dark navy straight-leg jeans with a medium rise on the grounds that a high rise squeezes the waist, but a low rise creates a muffin top. Speaking with horror of the schlubby old jeans she's being liberated from—high-rise, too-tight waist, tapered legs, dated bleachy faded denim—Krista says, "I felt like I was wearing Mom jeans!"
We love our moms. So why is it that the worst thing you can say about an article of clothing is that it looks like something somebody's mother would wear?
Sherrie Mathieson shows us why in excruciating detail in the before photos in Steal This Style: Moms and Daughters Swap Wardrobe Secrets (Clarkson Potter, 2009). Here's a mom in jeans just like Krista's—practically prehistoric pegged ankles, baggy thighs, pound-adding bleached-out denim topped off with a clingy wrap sweater that outlines every bulge, both of the jeans themselves and of the body in them. Here's a mom in a shapeless house dress in a splashy, vaguely tropical print. Here's a mom disappearing into a big boyfriend jacket over a big gathered skirt. There are at least a couple of moms in pants that stop at the ankle bone, a look that looks good only on super models. (On anybody else, it looks like your pants shrunk in the wash.) There are moms with no makeup, and moms with too much eyeliner and shoe-polish-black hair. There are moms swallowed up by giant sweaters and moms overflowing their too-tight strapless dresses. Moms in seriously boring suits left over from the 1980s.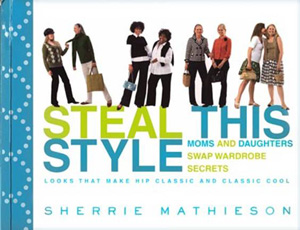 Moms in ruffly pink track suits. Moms in billowy Bermuda shorts and boxy Hawaiian shirts. Moms in lumpily tucked-in turtlenecks. Moms in T-shirts with sweet embroidered snowflakes, cute flocks of geese, cheery sunflowers, etc., etc. Stop them before they shop again!
But what do you expect? These women grew up in an era when fashion made sense, and a girl knew what to wear: usually a dress, with its hemline in exactly the same place as everybody else's. You can say it was boring and conformist. But it didn't look that bad. In an interview, Mathieson makes the point that the people waiting in bread lines during the last depression look better—and, in their felt hats and good wool coats, better dressed—than most of the folks you'll see at the mall this weekend.
Moms and grandmas who grew up back then weren't trained to operate under the big lie that "anything goes." They've lived through Jackie Kennedy ladylike, hippie chic, see-through, dress-for-success, giant shoulder pads, Japanese bag lady clothes, Madonna underwear-as-outerwear, seven different reincarnations of animal prints (and an eighth coming at us this fall), evening gowns so poufy women couldn't sit down in them and had to be trucked to galas in vans instead of limos, baggy jeans, skinny jeans, relaxed jeans, straight-leg jeans, boot-cut jeans, bell-bottom jeans, trouser jeans, sequinned jeans, tight jeans with little zippers and bows at the ankles. They have every right to be confused—or to throw up their hands.
Just now, under the pretext of winning a $5,000 shopping spree, I was finagled into checking out a few of Bergdorf Goodman's "must-have" trends for this fall which include, along with the aforementioned eighth reincarnation of animal prints, piratical over-the-knee boots, what looks like a black satin Merry Widow worn over a long-sleeved T-shirt from Proenza Schouler, the return of giant padded shoulders, $1200 lace-up schoolmarm/dominatrix boots from Christian Louboutin, and some nice black velvet from Armani.
Meanwhile, of course, these women live in a society so terrified of age that it prefers to pretend they don't exist. It often manages—by making life impossible for anybody who can't drive, among other strategems—to shuffle them off to reservations where they won't be seen or heard.
Is it paranoid to suspect that the clothes we encourage them to wear—the babyish pastels, the toddlerish track suits, the T-shirts appliquéed with nursery-school flowers and butterflies or silkscreened with darling kittens and puppies—are just another way of marginalizing them? A way to make them look irrelevant and unthreatening? A way to turn them into stereotypical sweet little old ladies who need not be reckoned with?
People dress the way they do for all sorts of reasons: to look rich, smart, sexy, thin, tough, arty, cool, hot, daring, cultivated, clued-in, glamorous. But what sort of weirdness explains a whole demographic dressed to look harmless?
The overt message of Mathieson's new book is that moms can and should borrow their daughters' "wardrobe secrets." Which are not really all that secret. Wear clothes that fit. Wear dark colors to look taller, slimmer, more authoritative—with an occasional flash of bright color for energy. Skip anything too tight, too low-cut, too short, too see-through. Skip anything—like football player shoulder pads—that looks like a leftover from 20 years ago. Pay attention to proportion. Beware of volume: Never pair an "oversize" top with a billowy bottom.
The subtext, if a what-to-wear book can have a subtext, is more radical: Dress like a grown-up—not like a baby, not like a toddler, not like a teenage sexpot, not like the hippie chick you were in the '60s —and not like a crazy old lady in an eccentric hat. Dress like someone who matters, not like someone who can safely be ignored.
Reprinted courtesy of Patricia McLaughlin © 2009 Patricia McLaughlin
---
Patricia McLaughlin is a Philadelphia-based Universal Press Syndicate columnist writing on fashion and style trends. Her "RealStyle" column appears each Sunday in 100 newspapers across the United States and Canada.