The Issue: Spring, the Best Season of All
Once again, our contributors have come up with a gem—like mist slowing rising up off a lake in the light of the morning sun, we welcome the spring issue of Empty Nest. It's not that we don't love winter; it's more that spring is irresistible. Spring gets us thinking about our lives—what's new and what can be. The earth wakes up, we wake up, and all is renewed.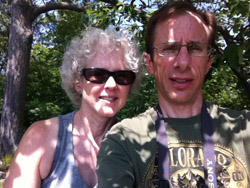 Bonnie Boehme writes of her midlife decision to become an "angel of mercy" and to pursue an "encore career"—as a nurse. Old Boats and Things explores our inability to part with our stuff, and recounts in particular, the dilemmas inherent in getting rid of an old family boat. Jerry Waxler encourages us to write our own life story by introducing us to a memoir by David W. Berner; Waxler captures Berner's fascinating "encore career" as a teacher in an inner-city Chicago school. Finally, in "Real People Empty Nesting," Kevin Ryan, president and CEO of Covenant House International, talks to Empty Nest about his own six kids (including two who have flown the nest), as well as the thousands of homeless youth he aids through his work.
In our Departments, Ellen Newman reviews the Anna Quindlen memoir Lots of Candles, Plenty of Cake, offering us plenty of food for thought this spring. And what is spring without Mother's Day? Returning contributor Patricia McLaughlin practices the usual spring ritual of remembering her mother, and this gives us pause to remember our own. Empty Nest "regular" William Bedford, who in recent issues has honored us with his verse, takes time to deliver a poignant narrative immortalizing his pet bird, Joey, and paying homage to flight and those feathered beings who have achieved it. Finally, in a refreshing case of carpe diem, a spring afternoon spent paddling kayaks gives one adventurous couple a different perspective on things, keeping it fresh.
The Publication
The format of Empty Nest makes the editorial our home page (you're there!), where the articles are laid out in context. As always, though, you can reach the Features, Departments, and Editorial via the sidebar menu at left. Finally, you can do a keyword search of this publication. Just type a topic or author's name into the search box at the bottom of the sidebar, and you'll bring up a page with links to relevant articles in the current issue and in the Empty Nest archives.
You can show your support for Empty Nest by clicking the "Donate" button on the sidebar and making a monetary contribution. Think of it as you would shareware. If you read an issue and like what you see, please consider contributing through the secure PayPal website to support our work. Our goals are simple: to recover expenses and to pay our writers, and we look forward to the day when we can do both.
Feel free to e-mail us at editor@emptynestmag.com with any additional comments or suggestions, or with proposals to contribute articles.
My Spring into Summer
My, how time flies. And, the busier we are, the faster it goes. Spring, The Best Season, is here again, and on top of that, we're almost through it. Can that be? In the Bonner household, we've gone from the short cold days of the FIRST Robotics season, furniture building, and other "inside" household projects to long daylight hours and Everything Outdoors. yard work, tree planting, weed clearing, power washing, hiking, sailing, entertaining on the deck, and just general outdoor fun.
For us, spring began much as I had predicted in last issue: In March, I headed off to sunny southern California for a little mother-daughter respite with Amie, where I got to check out her new digs north of Santa Barbara and, of course, several Santa Ynez wineries. A beautiful day trip with Amie and Todd up the California coast through Big Sur to Monterey was the crowning jewel of my stay. Back home, unseasonably warm weather brought daffodils, tulips, and spring wildflowers out earlier than ever, and then a cool spell preserved them. What fun! So, Gary and I dug out our bicycles and started our spring rides, enjoying the scenery.
Easter Sunday found us (and Grandmom) driving down to Washington, DC, for dinner with Amie, who was in town on business. Reminiscent of the days when the girls were home at Easter time, I pulled out one of their old Easter baskets from the attic, loaded it up with the old standbys, and took it along for the ride. Everyone enjoyed that! While in DC, we visited the Smithsonian's National Museum of American History and managed to get a fleeting glimpse of Dorothy's Ruby Slippers. I attended the spring "Big Apple" conference of the International Women's Writing Guild (IWWG) and had the chance for a little one-on-one time with Sarah. We enjoyed a production of "The Tempest" sponsored by several of Sarah's friends, who were taking it on the road (to Turkey!) directly thereafter.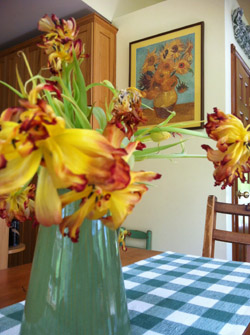 First, though, we had dinner at a cute little Russian restaurant we happened upon near Gramercy Park. I highly recommend Mari Vanna for its amazing borscht (which isn't as good as Julie Longacre's, of course); the adorable décor alone is worth the trip.
We were back in NYC a couple of weeks later for Sarah's concert with the New York City Master Chorale at the Merkin Concert Hall at the Kaufman Center, near Lincoln Center. It was truly amazing. Creative director Thea Kano put together an inspiring and eclectic repertoire that featured music with themes of water and night; it included works by Steven Paulus, Morten Lauridsen, Eric Whitacre, and the world premiere of Paul Leavitt's Eaux Vives. It was so beautiful that I nearly cried when it ended. While in NYC, we welcomed the chance to hang out with Sarah and her friends and the next day visited the American Museum of Natural History (what a fabulous butterfly exhibit!). Then, before heading back to PA, we stopped for dinner at Alice's Tea Cup. Until you've been there, you haven't lived—go for the mixed berry scones! May found us concentrating on our Tuesday night swing dance lessons—it was about the fifth time we took Beginning Jitterbug. We're becoming the class stars! A couple of weekend swing dances gave us time to practice. (Did you know you can Jitterbug to the "Powdermilk Biscuits" jingle from Garrison Keillor's "A Prairie Home Companion," every Saturday evening at 6:35 p.m. EST, in your own kitchen?) Weekend sailing races on Lake Nockamixon finally began—sun on your back, wind in your hair; there's nowhere I'd rather be on a spring or summer afternoon.
And, in May, we began using our deck in earnest. To prove our dedication, Gary hung up the beautiful "sun face" sculpture we picked up at the Philadelphia Flower Show (oh yeah, add that to our "doings" list for March), which had an amazing Hawaiian theme, complete with dining areas emulating volcanoes.The "sun" was crafted by Haitian artisans from old steel drums. We've already had several dinner parties out there on the deck, and the season is still young. A final bright spot for us in May was a tour of the Van Gogh Up Close exhibit at the Philadelphia Museum of Art. The man was simply a genius, but, sadly, one unrecognized in his own lifetime. We were able to get into one of the last tours, on May 6th, and we were so happy we did. Van Gogh's love of art, nature, and color strikes a chord with me; inspired, I'm now reading Van Gogh's letters to his brother, Dear Theo(Irving Stone, editor).
Soon Gary and I will be heading off for some summer fun with Amie and Todd, camping and hiking in Yosemite National Park. Gary and I toured the park briefly on a cross-country trip when we graduated from college, so this four-day stay in the park has been long overdue. To train, we've been doubling up on our Spring Mountain hikes, and, in recent weeks we have also added two 8-mile hikes at The Pinnacle (in Berks County, PA). You'll hear more about our adventures at Yosemite and elsewhere during the upcoming "season of heat" in the summer issue.
For now, enjoy the fabulous weather, the great outdoors, and life in general. And, as always, enjoy the issue! Once again, we thank our dedicated contributors, to whom we owe the quality of this publication, and our loyal readers, who ensure its success.
For more about Empty Nest magazine, visit About Us.
Enjoy!
Robin C. Bonner
Editor, Empty Nest