It's Vacation Time:
Take the Train
by James D. Porterfield
On Vacation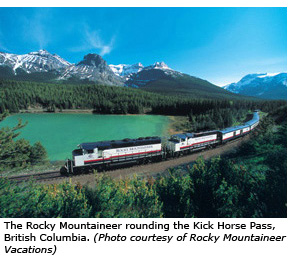 Try this the next time you're traveling: On your flight, or at a rest area or travel center along the interstate, ask fellow travelers, "Where are you going?" One thing they're likely to say is "I'm going on vacation."
Now ask that question of people onboard a long-distance train—say, Amtrak's Chicago–Seattle Empire Builder or VIA Rail Canada's Vancouver–Toronto Canadian—and you're more likely to hear "I'm on vacation." The train is the only form of transportation that inspires people to think of it as part of their vacation, not as something they have to endure to get to someplace they'll enjoy.
This is a testament to the natural superiority of travel by train. As you step up into the car and settle into your seat or room, you find that the relaxed pace of boarding and the imperceptible glide that marks your departure contrast noticeably to other means of travel. On board, the comparatively spacious accommodations—whether a coach seat or a sleeping car compartment—can't escape your notice (although a sleeper is more reminiscent of an RV than of a suite motel). Your fellow travelers are genial and in good spirits. Best of all are the remarkable diversity and inherent beauty of the landscape drifting by as you gaze out your picture window (Note: The views are populist, however; urban grandeur, industrial grit, and natural settings all receive equal billing. And contrary to what you may believe, there is no reasonable explanation for the wrecked automobiles you see from time to time lined up along railroad tracks.)
Spiritual satisfaction awaits you, as well. You are afforded the perfect opportunity to connect, or reconnect, with your partner. You are free to build new memories of a life now unencumbered by children. If you are retired, there is no set schedule to keep. For me, repeated trips across the United States and Canada have increased my awareness of the varied geographic splendor of North America and caused me to marvel at the social and political phenomenon—and cultural and economic diversity—that is the United States.
The Coast Starlight Experience
Amtrak's Coast Starlight, one of the railroad's inter-city trains, delivers on the promise of an enjoyable trip. Whether you depart Seattle or Los Angeles, you will alternately spend the daylight hours of the 1,377-mile, 36-hour trip gliding past the snow-capped peaks of the Cascade Range—including Mt. Rainier, Mt. Hood, and Mt. Shasta—and hurrying for miles along the Pacific coast, occasionally closer to the water than are the beachgoers.
Inside the Coast Starlight's bilevel Superliners, equipment and service have recently been upgraded. At-seat meal choices and new rooms equipped with arcade-style video games and board games await coach passengers. Sleeping car passengers can enjoy a refurbished Parlour Car that offers panoramic views, alternative meals to those offered in the dining car, daily regional wine tasting, a specialty coffee bar, and a newly redesigned theater with 50-inch plasma HD monitors that feature family and classic movies three times a day. A complimentary library and board games are also available. Parlour Car menu items include regional cuisine, such as Pacific Bay scallops and Santa Maria beef short ribs. All passengers can walk to the dining car to be served freshly cooked meals on tables decked out in white tablecloths. Other long-distance trains already upgraded include the Empire Builder and the Chicago–New Orleans City of New Orleans. Each offers features different from those of the Coast Starlight.
The Coast Starlight is one of more than a dozen long-distance trains that cruise Amtrak's 21,000-mile national route and offer service to more than 500 destinations in 46 states. Fares and accommodations vary. Coach fares on the Coast Starlight are as low as $92 one way between Los Angeles and Seattle, with the sleeping car accommodation adding $196 one way between Los Angeles and Seattle (subject to availability). An additional guest in a sleeping compartment pays only a coach fare. Meals are included in a sleeper accommodation fare.
Luxury and Private Trains
[PHOTO: Rocky Mountaineer or Grand Luxe, T/C]You can also consider two other rail travel options: privately operated luxury excursion trains and private rail cars.
Among the private rail excursions, two stand out: The Rocky Mountaineer, which has rail cars especially built to enhance viewing the scenery, offers tours in western Canada. The GrandLuxe Rail Journeys line offers restored equipment from the "Golden Age" of rail travel in a variety of itineraries in Mexico and the United States. These trains are a "land cruise," with routes and itineraries that immerse you in the experience. Other such trips can be found by visiting Train Holidays or Vacations by Rail for tours that include rail travel, and Trains Unlimited Tours for rail-themed trips throughout the world.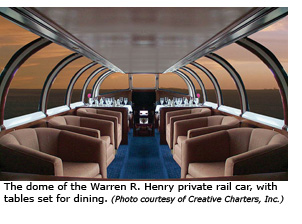 For the ultimate in a rail getaway, consider chartering a luxuriously appointed private rail car. To see the variety of cars available, visit the American Association of Private Railway Car Owners and click on Private Cars Available for Charter. Follow the links to tour individual cars and learn whom to contact. These cars are typically added to the rear of a scheduled Amtrak or VIA Rail Canada train, but always ask about other options. Although chartering a car may seem pricey, when you divide the total amount among the three or four couples (in some cases more) such a car can handle, the price is comparable to the aforementioned private luxury excursion trains.
Booking Your Trip
Whatever your motive?travel, escape, solitude, relaxation, enlightenment?and whether you are visiting your far-flung family, checking on your eventual retirement property, or going on vacation, book early, especially now that gasoline prices are driving more people to the train. When possible, plan your trip for early summer, as more daylight hours afford greater scenic enjoyment, but late summer brilliance, fall foliage, and winter snowy vistas also make excellent backdrops. For more information on the Coach Starlight and other Amtrak routes, visit www.amtrak.com, call 1-800/USA-RAIL (872-7245), or talk with your travel agent. To learn more about similar trains operating in Canada, visit www.viarail.ca or dial 1-888/VIA-RAIL (1-888/842-7245). For contact information on booking private excursion trains and chartering a private rail car, see the previous section.
Regardless of the type of train you book, the route you take, or the purpose of your trip, something magical remains about watching from your seat as a conductor strolls along an empty station platform, calls out "All aboard," climbs onto the train, and signals the engineer to get under way.
For you are already on vacation.
---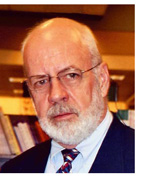 Jim Porterfield, who is actually a much happier guy than his headshot indicates, is the author of Dining by Rail: The History and the Recipes from America's Golden Age of Rail Travel and From the Dining Car: The Recipes and Stories Behind Today's Greatest Rail Dining Experiences, as well as other books and articles on rail history and travel. Learn more, and get a free recipe, at www.jamesdporterfield.com.