Cheeseburgers in Paradise:

Anniversary Trip of a Lifetime
by Robin Bonner
Paradise Regained
Imagine this: As far as the eye can see—azure skies, waters of aquamarine, rolling green hills rising up from islands dotting the seascape. You soak up the sunshine, bask in the warm air, and glide through the tropical waters. A gentle breeze cools your skin. Hungry?
Feast on mango or pineapple—or freshly caught fish. Tired? Rest your head and drift off for a bit. Bored? Grab the helm or snorkel a reef. Setting sun? Enjoy its delicious colors, rum punch in hand. Then ready yourself for dinner, a short dinghy ride ashore from your sailing yacht.
Am I dreaming? No, amazingly enough. But how does one describe getting to paradise and back?
Five years ago, my husband, Gary, and I discussed how to best celebrate our 25th wedding anniversary. Gary, an avid sailor since boyhood, pushed for a bareboat (uncaptained) charter in the Caribbean. Having gingerly eased myself into racing our 19-ft Lightning with him in Lake Nockamixon (PA) relatively recently, after the kids left home and he therefore lost his crew, I didn't feel up to handling a 35-ft sailboat in untried waters. For a whole week. (Until then, our chartering adventures were limited to an occasional weekend on the Chesapeake, and over the 10 years we juggled the girls' tuition bills, we hadn't even been there.) So, for our 25th, we booked a week in a lovely yet economical all-inclusive resort in Antigua, a "safe, relaxing" vacation, where we sailed Hobie Cats in the bay there, and Gary windsurfed while I read my novels under a palm tree on the beach. It was all quite nice, but it left us (both of us, I'll admit) wanting more.
At the time, I swore to Gary that we'd work on our chartering resume—and I'd work up my nerve—so we could celebrate our 30th as he had proposed.
What a big waste of five years.
If you've never been to The Islands, get there. As soon as possible. If you can, sail a boat, and if you can't, arrange for a captained charter—it's the only way to go wherever you want to whenever you want to, to have the adventure of a lifetime. Just the warm wind in your sails, the warm sun on your skin (most of the time), and warm water surrounding you as far as your eyes can see. Did I mention it's warm there? Turquoise water (really), and sunsets streaked with every vibrant color. Those hues—you'll recognize them as Caribbean—take on new meaning as they appear before you in the sky, in the water, and even in the paint on the islanders' homes, in real time, for days on end.
A Most Excellent Adventure
We had our work cut out for us. To begin, over the past few summers, we took up chartering in the Chesapeake again. During a charter from Rock Hall last September with friend Tom Callis, we got a slip for the night and explored the sailors' town of Annapolis, MD. Then, we scheduled a road trip there in October to check out Caribbean charter deals at the annual U.S. Sail Boat Show. By the time we headed home, we had money down with Sunsail on a week-long charter in the British Virgin Islands (BVI) for June 2010. Talk about anticipation.
In the spring, as the big week approached, we picked the brains of fellow sailors at the Nockamixon Sail Club, read up on the BVI, and prepared for the journey.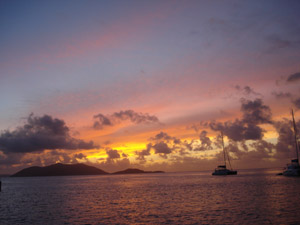 There were passports to be obtained, flights to book, balances to pay. We even (finally) got our wills done (on the list for years). Gary researched GPS coordinates and maps. I read BVI guidebooks. The "to do" list was long but the preparations exciting.
The BVI, by the way, are the top choice location for a first-time Caribbean charter. The group of about 50 islands of varying sizes (only 15 inhabited) cover about 59 square miles and offer many convenient anchorages and short day passages for those hesitant to try more challenging blue-water sailing. The four main islands of Tortola, Virgin Gorda, Anegada, and Jost Van Dyke provide just enough civilization for comfort. The BVI boast a population of only 22,000, 18,000 of whom live on Tortola.
The Sir Francis Drake Channel, which runs up through the center of the island chain, provides a somewhat protected passage from one island to another, with all except Anegada in view of one another. And the islands themselves entice sailors ashore with hiking, local attractions, island crafts, and tropical drinks and fare. The reputations of many of these land destinations (especially the drinking establishments) are passed from sailor to sailor by word of mouth, and our comrades from the Nockamixon Sail Club were only too happy to share. Consequently, we had a full agenda before we ever left Philadelphia.
Getting There, Casting Off
After months of planning and with duffel bags (required by Sunsail) packed, we alerted our coworkers that we "would not have access to the Internet for the following week" and headed for the airport (arriving about 5:30 a.m. for a 7:30 fight).
Note on packing: You don't need half of it. Really. Unfortunately, we just couldn't shake our "But I might need this!" mentality (despite advice from veteran island sailors to the contrary), and so we ended up lugging around twice as much stuff as we needed. (Thoreau would have had a fit.) Plan on a couple of bathing suits, which you can wash out and hang up, and pack everything quick dry: shorts, shirts, and undies if possible. Bring one long-sleeved sun-protective shirt for snorkeling; ladies: a couple of little sundresses for special dinners, if desired; and very little else. Plan to go barefoot on the boat; boat shoes prove to be too slippery (but ours are old, so decide for yourself).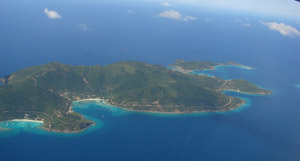 A pair of water shoes (we had Teva sandals) is helpful on and around the dinghy and shore. Packing lightly is liberating while making your way through customs on the return trip, and a lightweight carry-on makes for a comfortable layover in San Juan. Finally, get wheels for your duffel bags.
Having had virtually no sleep the night before, I remember very little about the four-hour flight from Philadelphia to San Juan. The three-hour layover before boarding our connecting flight to Beef Island, however, gave us time to find tropical fruit smoothies and egg sandwiches, and a Starbucks to further stoke our revival. The sight of our prop-plane on the tarmac and hearing the call to board were welcome. In only one more hour, we'd be in the British Virgin Islands!
Gary snapped aerial photos of the islands as the plane circled around to land, and I just marveled at the endless turquoise water. Sunsail sent a van for us and other sailors on the flight—many of them part of a family of 20 celebrating grandpa's 80th birthday. What fun! We chatted through the 20-minute ride, finally disembarking at Wickham Cay II, in Road Town, Tortola. We were able to store our luggage while waiting for our 6:00 p.m. boarding on Kazejin, our 34-foot Beneteau. (Kazejin seems to have come from a Yu-Gi-Oh card game, and means "demon wind god." I'm sure a proper translation will also include the word adventure.)
Food shopping list? Check! Once onboard and luggage stowed, we caught a ride to Bobby's Market, about 10 minutes away, to do our "provisioning." (The supermarket sends a van over to the Sunsail base, a lucrative source of patrons.) Simple breakfasts (yogurt, granola, fruit)
and lunches (sandwich stuff, cheese and crackers) and two on-board dinners (hamburgers to grill, salad, and veggies) plus bottled water, fruit juices and, of course, the requisite bottle of coconut rum were lugged on board and stowed as well. After a late dinner in the marina's open-air restaurant, under the care of a BVI gentleman named Arthur, then a few minutes lounging near the pool under the stars, just taking it all in, we called it a night. Tomorrow would be a long day!
The next morning, we grabbed showers in the marina bathhouse, downed some breakfast, and headed to the 9:30 a.m. chart briefing. Unfortunately, the presenter had laryngitis, and most of the sailors there heard only about half of the tips divulged. So most of our information on moorings, anchorages, and other topics came from fellow sailors back home. Good thing we had done our homework! Our 10:30 boat briefing turned up a few minor technical problems, so we toured the marina's gift shops, rented a cell phone, and picked out snorkel fins while waiting for repairs. By early afternoon, we were finally under way.
Norman Island
Finally in some open water, we picked out St. John and St. Thomas to our right (starboard), and Pelican Island and Norman Island dead ahead. It was a little late in the day to snorkel The Indians (nearby rock formations) and also ensure we'd have a mooring ball by evening,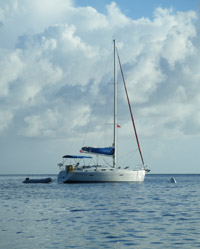 so we opted for the night mooring. I took the helm and motored forward while Gary picked up the mooring ball with a boathook, ran a line through it, and tied off to a cleat near our bow. I cut the engine. Ahhh! We were secure for the evening.
After a brief shower, the sun reappeared and we decided to acquaint ourselves with the snorkel gear. About that time, Pirate's Bight, a restaurant on shore, sent a boat around to collect the $25 mooring fee, and a speed boat named Deliverance pulled alongside to sell us muffins, fresh produce, and ice. (The cream cheese muffins were divine.)
I wasn't sure how snorkeling was going to go—that is, if I could get the hang of breathing only through my mouth, swimming, kicking with fins, and floating atop the water, all at the same time. (When I pulled the snorkel mask on in my livingroom at home, I felt like I was drowning. Not a good sign.) Good news, though: With patient practice off the stern, before long I was snorkeling in circles around the boat, ready for the big time! We used our "pool noodles" (rented for $5 per) for added buoyancy and swam toward shore. As the water became shallower, we excitedly spied coral, sponges, and brightly colored fish! We were snorkeling and loving it. Tomorrow, we'd do The Indians.
Sipping rum punch on deck as we watched the sun set became a ritual that first evening, the colorful sunsets riveting. It is no wonder that ancient cultures worshipped the sun. A nearly new crescent moon followed the sun's path, as did Venus. Before long, we were glancing toward the east, at the moonless but still exquisitely bright night sky,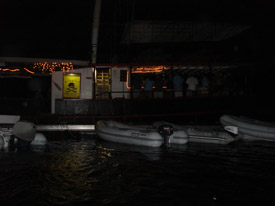 at the beautiful Milky Way and southern constellations not visible in the north. As we ate our BBQed dinner, we were truly enjoying a cheeseburger in paradise.
Was the night over with the setting sun? Not a chance. Sunsets occur earlier toward the equator, so by now it was only about 8:00 p.m. Friends had told us about a "must see" floating bar off Norman Island, so we readied ourselves and the dinghy for a night of adventure. They're not for the faint-hearted, those nighttime dinghy rides.
The pirate flag of the Willy-T, named for William Thornton, designer of the U.S. Capitol building but born on Tortola, welcomed us as we tied up at the crowded dinghy dock. I'm sure Mr. Thornton has rolled over in his grave more than once, appalled at the antics that go on at that floating bar. Let's just say I was hoping that night would be relatively uneventful: that no one would earn a T-shirt (procured by stripping and diving from the top deck into the water below), decide to do body shots (look it up), or participate in any most of the other usual Willy-T activities. We did witness two young women receiving temporary tattoos in strategic locations from willing bartenders and took in a TV slide show showing past nights of obviously less inhibited activity, but all in all, things were calm. After a bit, our curiosity satisfied, my DS (designated skipper, Gary's moniker as both captain and nondrinker) and I headed back to Kazejin.
The Indians, The Baths, and Marina Cay
Monday morning dawned bright: We awoke to sun, donned swimsuits, and by 6:30 a.m., we were making the 10-minute trip to The Indians, a rock formation just offshore that marked some recommended snorkeling. Even at that hour, we arrived to snag one of the last National Park moorings. (This was the off season?) Under a quickly warming early morning sun, we jumped from the stern and tried our new snorkeling skills, honed just the previous afternoon. Beneath the surface, another world flourished—one of lavender sea fans, orange tube sponges, and brightly colored fish swimming alongside us—a world teeming with life.
After an amazing hour and a half, we swam back to Kazejin and a breakfast of fruit, yogurt, and granola, then headed out toward Virgin Gorda and The Baths. So early, yet we'd already done so much. Life is good!
Almost immediately, Gary had his first chance to sail "in the ocean" as he rounded the north shore of Norman Island and chose to sail to the south of Peter Island rather than to the north of it, a route that offered the protection of the islands bordering the Sir Francis Drake Channel. The seas to the south were choppy, and we beat upwind, our bow pounding the waves. Gary rejoiced, and I recoiled. Soon, I found myself settling onto the bench in the cockpit with eyes closed, fighting the queasiness coming on. I learned years ago that some sailing tacks in rough waters just did not agree with me and the best thing to do was to (1) avoid reading, (2) avoid going below deck, and, if necessary (3) just sleep for a bit. All would be well soon, and when I did open my eyes occasionally, I enjoyed the wild landscapes and seascapes.
The south passage around Peter Island proved time consuming, and as we struggled to pass Dead Chest, Salt, Cooper, Ginger, Fallen Jerusalem, and other islands on the way to The Baths, we knew we had bitten off more than we could chew that day. When we reached The Baths around 3:30, much later than planned, we decided to abort our attempt to hike in the labyrinthine rock formations until the following morning. Instead, we sought out a mooring at nearby Marina Cay (pronounced "key"). The tiny island had just room enough along its southwest-facing shore for a Pusser's restaurant (home of the rum-based "Painkiller") and general store, and a couple of lavender and turquoise bath houses.
First order of business: Call Sunsail and have them send a repairperson to fix the port-side jib winch, which didn't ratchet properly (annoying Gary all day).
They sent the same guy who replaced the fan belt before we left Road Town on Sunday. It was interesting to watch him work: an old muffin bag of greased parts in hand. While we waited, another "delivery" speed boat pulled up alongside, this time from an artists' co-op across from us at Trellis Bay (Beef Island). They convinced us without much trouble to purchase local a few organic mangoes and a pineapple. Move aside Dole—this is the real thing. Then, we boarded our dinghy for the ride to shore, where we paid the mooring fee in Pusser's General Store.
Those cute little bathhouses were a magnet for tiny biting flies, as it turned out, so Gary retreated to shower on the boat. I decided to tough it out, then lost $2 in the shower's coin mechanism (BV Islanders protect their scarce water supply by charging for on-shore showers). So, after a 3-minute shower, I was forced to rinse my hair in the sink. None of this was a fun way to begin the evening, our de facto anniversary. We ate our hamburgers on deck quietly, Gary furiously scratching his bug bites, which had blossomed into a full-blown allergic reaction. I had reminded him to pack bug spray...well, we would certainly pick some up at our next port o'call.
The Baths II, Virgin Gorda
With Monday behind us, we were up with the sun Tuesday morning, ready to do it all again. The beauty of the place was that intoxicating. About 6:30 a.m., we set sail for The Baths, about two hours away.
Amazingly, our 8:30 a.m. arrival was still too late—there was not one National Park mooring ball to be had. The Baths were a "must do" on everyone's list, though, so we made an executive decision to cheat: to pick up a yellow "commercial" ball and make our visit snappy. (Rules dictated a 90-minute limit on red NP moorings for noncommercial vessels, but we could smell pancakes cooking on nearby boats, so apparently, our neighbors weren't going to be in any hurry.) The mooring was about 250 yds offshore, but buoyed by our recent snorkeling successes, we decided to go for it. After an exhilarating swim, we walked across the beach in search of the entrance to The Baths.
Unfortunately, I was barefoot and ended up smashing my toe against a low-lying rock, which put a damper on any long walks onshore for most of the rest of the trip.
You have to experience The Baths to believe them. Nearly 50-foot granite rocks had stood the test of time, and now pools of water gathered in their shade. We (and about 50 others) waded in the cool water and pulled ourselves up the smooth and slippery trail of rock using strategically placed ropes and ladders. After 30 minutes or so, Gary and I had seen enough (and had enough of the crowd), so found our way back to the beach. The Baths would be a great place to hang out for the day, as the tall rocks provide cool respite from the June heat, but we had no idea of the ramifications of picking up a commercial mooring ball (especially with "Sunsail" emblazoned all over our boat) and we didn't want to find out. So, we donned snorkel paraphernalia and waded into the water. Glad to find that my injured toe could fare adequately inside the snorkel fin, we made our way back to the boat, me babying my left foot the full 250 yards. The cool waters soothed my angst, though, and I just learned to adapt the rest of the week. As long as I could snorkel, I was good. Who's to argue with some minor ripples when spending the week in paradise?
After breakfast, we hoisted the sails and headed northwest, around the lengthy coast of Virgin Gorda, the last island on our trek eastward. We passed Spanish Town, the major settlement on the island, and looked ahead to "the Dogs," a group of tiny islands "guarding" the entrance to the channel. As we reached them, Gary yelled to me below decks, "Come on up! Hurry! Bring the camera!" But I wasn't fast enough. So, although we have no photos, we both did get a pretty good look at the enormous sea turtle swimming by. Once past the Dogs, the wind picked up, as we were in relatively open water. Mosquito and then Prickly Pear islands came into view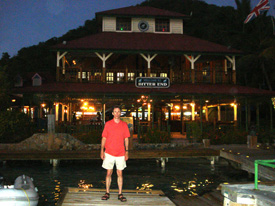 (we also got a glimpse of Necker Island, owned by Sir Richard Branson). We negotiated the channel markers into North Sound and the Bitter End Yacht Club (BEYC), our destination for the evening.
The Bitter End is a sailor's mecca, and we didn't have to be told to make a stop there. In fact, we checked it out when planning our last big anniversary trip and passed it over because of the expense. To compensate, we planned to celebrate our 30th anniversary dining at their fresh-air Clubhouse. The BEYC complex is a "sailing village," actually, offering a full-service marina, provisions emporium, gift shops, hotel, pub, restaurant, and spa.
After stocking up on groceries and T-shirts, we jumped on the dinghy and headed back to Kazejin, to take it 'round to the marina dock, filling water tanks, unloading trash, and buying ice (for the fridge).
Then, it was back across the harbor, to our mooring, to ready ourselves for dinner. The shower, rum punch, and sunset rituals behind us, we set off for shore once again via dinghy to enjoy a scrumptious West Indian buffet and music by a local reggae band at the Clubhouse. Plantain and sweet potato salads and wahoo fish were my favorites, followed by chocolate banana cake and mango tart. All this, as we enjoyed the coral sunset and the warm evening breeze from our table, overlooking the water. Any setbacks earlier in the trip were far from our thoughts.
Speaking of the mango tart, our young server, after clearing our dinner plates showed up with another server, giggling. They set a piece of mango tart with lit candle in front of us. Suddenly we realized the bandleader was congratulating some couple on their 30th wedding anniversary. Guess who? Gary rose, and I followed him, touched, to the dance floor. The fellow remarked, "30 years—that's a long time, mon!" We laughed and nodded, dancing to "Crazy Love," by Van Morrison. A perfect end to a perfect evening.
continued in part two . . .