CULTURE
Review of
The Wisdom of Sam, by Daniel Gottlieb, PhD
by Robin Bonner
A Page Turner
Nonfiction seldom reads as a page turner, conveying such warmth, such insight, that, although you can't directly identify with the plight of the protagonists, you're drawn into their circle, and you benefit from their struggles (much like reading a good novel). Such, though, is case with Dr. Daniel Gottlieb's real-life reflections in The Wisdom of Sam: Observations on Life from an Uncommon Child (Hay House, 2010, 136 pages).
From the perspective of his wheelchair (he was left a quadriplegic after an automobile accident years ago), Gottlieb has the uncanny ability not only to understand his autistic grandson, but also to relay Sam's special qualities—his kindness, his wisdom—to the rest of us. You may chalk up Dan's perspective to his years as a psychotherapist, or you may credit his just being a good grandfather. Either way, he sums up the situation readily in his introduction:
"These limitations [mine and Sam's] don't matter. We are who we are."
So true. And grandfather and grandson spend their time together acting accordingly—just being themselves. If we all could do that, the world would be a better place. In each case, we are who we are. Dan and Sam are no different. As their story unfolds, this thought comes to mind again and again. They don't try to change one another; their relationship is one of acceptance, and you realize that it is within this umbrella of acceptance that their bond grows.
Book of Stories
With chapter titles like "Just a Little Forgiveness," "I'm Sumfing Else!" "Why Do People Have to Get Naked?" "Everything Just Went Too Fast," "Enough Madness," "Where Bad Dreams Go," and "I Am More Kind" piquing my interest, I delved in. Each chapter presented a snippet of Sam's life, and each one taught me something about the way Sam overcomes obstacles, about how observant he is, how loving. How, like most kids, Sam has to work through his problems in order to grow. And, how his parents and grandparents have to let him do it, as difficult as that can be at times.
The book opens at Dan's, the morning after a sleepover with Sam. They talk about juice and cereal, going to the arcade later in the day, and Dan's dog Loki, whose "mood is mainly dependent on one factor—whether he has been fed or not." Whose breakfast table isn't similar?
Things are different for Sam, though. Through Dan's vignettes, we learn about Sam's need for a stable influence—hence his mother's omnipresence—and of his acute awareness of and sensitivity to visual color. We hear Sam say what's on his mind, with no social cues as to discretion or tact (with obvious results). And we follow where all those adventures lead him. Through it all, we are held enthralled, as Gottlieb is a master storyteller.
A Story for All Ages
Sam's and Dan's is truly an intergenerational story, one meant for parents and caregivers of children with autism, but one also meant for parents and grandparents of children everywhere. I could see myself, my own childhood, in Sam's stories; I could also see my own children there, as I found myself reminiscing about them as young girls. Dan's love for and patience with his grandson is obvious, and it is truly inspiring.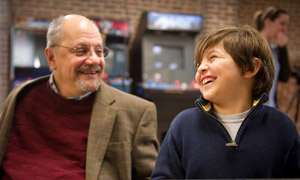 Stop and smell the roses. Just be—together. Quality time can't be rushed. Hang out together; that's where the meaty conversations happen. There are lessons there for all of us.

Gottlieb ends the book with a chapter titled "My Death," and it's about just that—thoughts about the end of his own life. Over the previous year, he had experienced wild fluctuations in his heart rate and his blood pressure that nearly caused him to black out. A pacemaker was installed, to no avail, and his specialists couldn't figure out what to do about it. He had already lived much longer than most quadriplegics, and so he thought the end was near.

Sam sensed his grandfather's fragility, and he came to Dan with his concerns. "How old will I be when you die?" the questions began. Dan lovingly entertained and answered each of Sam's concerns, crossing his fingers that he was giving Sam enough to hang onto and comfort him when his grandfather is gone. The scene unfolds beautifully—remarkably, really. For how many of us could have this conversation with our loved ones? In the end, there are jokes and reassurances, and the reader is reassured as well: "Death does not interfere with love." Who could ask for a more tender lesson? Who could ask to witness a more tender relationship than that between this grandfather and his grandson, challenges and all?

Who, indeed?

***

Practicing family therapist Dan Gottlieb, PhD, is author of Letters to Sam, and Learning from the Heart, which have been published in 15 languages to international accolades. Gottlieb is also author of Family Matters, and Voices of Conflict; Voices of Healing. His radio show Voices in the Family explores mental health issues via a call-in format. (It can be heard on the public radio station WHYY 90.9 FM and has earned Gottlieb numerous awards.) Dan also writes weekly blogs on the Websites of The Philadelphia Inquirer and The Christopher and Dana Reeve Foundation. He resides in Cherry Hill, NJ.
---
Robin Bonner is Editor of Empty Nest. For more about Robin, see About Us.