GENERATIONS
Excerpt from
Letters to Sam: A Grandfather's Lessons on
Love, Loss, and the Gifts of Life
"Your Birth"
by Dr. Daniel Gottlieb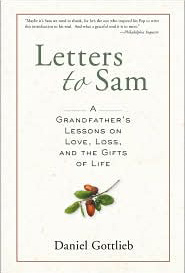 In 2006, Dr. Daniel Gottlieb, Philadelphia psychotherapist, columnist, radio personality, and author, published Letters to Sam: A Grandfather's Lessons of Love, Loss, and the Gifts of Life. Dr. Gottlieb and Sterling Publishing have graciously granted Empty Nest permission to reprint a chapter from the book. In "Your Birth,'" Dr. Dan relates the circumstances surrounding Sam's birth and the great joy his coming into the world brought to the family. It provides a peek at what it's like for a parent when his or her own grown child expects and delivers a baby, and how that changes everyone's life. Gottlieb (a quadriplegic due to a freak accident years ago) wrote the book for his autistic grandson to pass his insights from one generation to the next. The lessons he imparts, however, benefit readers of all ages.

Reprinted with permission of Sterling Publishing Co., Inc., from LETTERS TO SAM by Daniel Gottlieb. Copyright © 2006 by Daniel Gottlieb.
Dear Sam,
My life was changed the moment you were born. But your mother's life, my child's life, was changed even more.
When the time came for your birth, we knew your mother would be having a Cesarean section, and we all came to the hospital. There we were—your father, his mother, and me—hanging out in Debbie's hospital room, nervously, waiting for the doctor to call her. As we waited, I had the time to remember what it was like many years before when I waited in the hospital for your mother to be born, just eleven months after your aunt Ali. The moment each of my daughters came into the world, I made a promise to them, to myself, and to God that I would do everything in my power to protect my daughters and make their lives good. This is what almost all parents want for their children: a lifetime of happiness and an easy passage.
When your mother was a toddler, she had jet-black hair, adorable bangs, and big brown eyes. She and her big sister Ali were always together, holding hands. It seemed like Debbie was in Ali's shadow and content to be there. I have a picture on my desk of the two of them—ages four and three, on the beach, holding hands, taking care of each other as always.
Of course, they weren't always angels. One summer when we were on vacation, your grandmother Sandy and I put the girls to bed and went to sit out on the balcony. We thought we could enjoy the sunset in peace and quiet—but no such luck! Ali and Debbie just wouldn't settle down. Finally, I lost my temper. I went into their rooms and spanked each one of them, just one firm pat on each of their butts. But I'd never done anything like that—so they both cried. And so did I! There we were, the three of us, all crying and saying how sorry we were for what we'd done.
As a little girl, your mother always had the uncanny ability to climb inside my mind and heart and figure out what was going on in there. I remember the time, before my accident, when I took Debbie to the hospital to have a tonsillectomy. We were walking up and down in the hallway outside the operating room. She looked up at me and studied my expression.
"Daddy," she asked, "are you scared about my operation?"
In an effort to be honest with her, I said, "Yes, a little bit."
"What are you scared about?"
"Well," I said, "I'm scared they'll hurt your throat. And I guess I'm a little scared that even after the operation, you might still have trouble getting over your colds."
She shook her head. "That's not what you're scared of."
"Oh?" I looked down at her. "What, then?"
"You're scared I'm going to die in there."
Of course she was right. I had tried to tell her the things that I thought a little girl could hear, but she'd seen right through me to my real anxiety. How come she could always do that? I don't know!
Something similar happened shortly after my accident, when Debbie was six years old. I had just come home from the hospital, and I was feeling very insecure and unsure of myself personally as well as professionally. It was evening and the first patient I would see after my accident was about to arrive.
As I was sitting in my wheelchair outside Debbie's room, looking in the mirror (the only one in the house at wheelchair height), I started to comb my hair. (That was back when I had hair!) It was Debbie's bedtime. She was supposed to be sleeping. Instead, she came out of her room and stood beside me, watching.
Finally, very seriously, she said, "Daddy, why do you always worry about how you look before your patients come?
"I don't know."
She reflected a moment. "It seems like you always have to look perfect."
"I don't know. I never thought about it." I was still trying to get my hair combed and beginning to feel uncomfortable about her probing questions.
"They're only people, you know."
Now I replied with a little more discomfort and animation. "I just don't know, Debbie. I never really thought about it."
"Well, think about it," she said, "and we'll talk about it in the morning."
With that, she went into her room and I went off to see my patient. Sure enough, I was up all night thinking about it. Once again, she had seen right through me!
But that little girl grew up, and in the years that followed, despite my commitment to protect her, she experienced a great deal of suffering. She lived in a home where, for reasons I'll tell you soon, she sometimes felt terrified and overwhelmed. As your mother grew through adolescence and adulthood, It seemed as if her pain began to accumulate. She still had her smile, but it did not seem so genuine. Her needs and wishes grew silent. Even her body began to look unwell as she got thinner, stayed out later at night, and lost the gleam in her eye.
That's why I was so happy, several years later, when she met your father and fell in love. When I first met him, I saw a kind man with a good heart who was also in love. And, I got to know him, and I learned that he, like your mother, had suffered the consequences of a difficult childhood. Fortunately, both of your parents made a commitment to themselves not to let their past determine their future.
And then my child, your mother, told me that she was pregnant. She looked so happy and beautiful. All I could think was, "Another chance for joy!"
Debbie fervently researched motherhood. She wanted to know every detail of what she was experiencing, and she became my teacher. I would listen on the telephone, enthralled with her descriptions of what was happening. It was a blessed experience to watch her body grow with you.
When the time came, your father accompanied the doctor and your mother into the operating room while I went into the waiting room with your other grandmother. About ninety minutes later, your father came into the waiting room, crying. All he could say was, "It was awesome."
Soon we all went down the hall to meet you. Of course you were adorable, but what struck me most was what had happened to Debbie, my baby! In the two hours since I had seen her, she had become a mother—a different person. She seemed more calm, more present, and somehow older. Most of all, I saw a kind of happiness I had always wanted for her.
You are the product of the great love that two wounded souls have found. I love you every moment of every day. And, I love you for the joy you have brought to my daughter.
Love, Pop
---
Dr. Dan Gottlieb's work last appeared in the fall 2013 issue of Empty Nest. His new book, The Wisdom We're Born With: Rediscovering the Joy of Living, hit the bookstores in March 2014. Dan has also authored The Wisdom of Sam: Observations on Life from an Uncommon Child (Hay House, 2010), which was reviewed in the summer 2010 issue.