On Becoming a Grandparent:
A Bit of News that Changes Your Life
by Robin Bonner
A Many-Faceted Graduation
Amie, our older daughter, had been completing online coursework for her MBA and decided to walk at the commencement. She invited us to join her and (husband) Todd in Chapel Hill, NC, the beginning of April to help them celebrate.
As my husband Gary and I traveled south that Friday afternoon, fighting traffic between Washington, DC, and Richmond, VA, our only thought was, "Are we going to make it to the reception?" Little did we know what the evening had in store for us.
To save time, we opted for Plan B, meeting Amie and Todd at the campus rather than at the hotel, so we made a quick stop at a rest area to change into our evening duds. That way we shaved about 20 minutes from our trip and also allowed Amie and Todd to arrive at the affair on time. Once we caught up with them, there were hugs all around and we headed inside. Beyond the business school administrators, who were greeting graduates in the hallway, lay a lavish spread of hors d'oeuvres and desserts. Accompanying these culinary goodies was a wine bar, and that's where I headed. A drink would be wonderful after that grueling drive from Philly.
I noticed that Amie was drinking ice water, not wine, which was a little odd. I surmised that the wine probably wasn't up to her standards. Living in CA, in "wine country," she and Todd belong to several wineries, and after going wine tasting while visiting them year after year, even I could now tell the difference. Plus, it was fairly hot "down south" there in Chapel Hill—certainly by Philly standards, anyway—for that time of year. (Geez, we've had snow at home as late as April 7.) And, Amie is always emphasizing the importance of staying hydrated. So, I shrugged and asked for a nice cold Chardonnay, resolving to get myself a glass of water in due time.
Our conversation with Amie and Todd and a small group of other graduates and parents was interrupted by the ringing of Amie's cell phone. She grabbed it, urgently said "Hello???" and walked off, so we couldn't overhear the conversation. What was that all about? When she returned, she explained that she had had some blood work done and the doctor's office evidently had lost the sample. How annoying! I knew she'd been seeing a doctor for a thyroid problem and thought nothing more about it.
Do you get where I'm going with this yet?
After the reception, we decided the night was young, so we'd meet in Amie and Todd's room and party a while longer before turning in for the night. I grabbed the Sunstone 2012 Rapsodie du Soleil that I had brought from home, plus a few glasses, and we headed down to their room. Upon arrival, I began to pour. Amie gave the first glass to Todd. Then, giving me a meaningful look, she handed the second glass back to me, saying, "So, uhh, I'm not drinking." I looked at her, confused. There's no one on earth who loves wine more than Amie does, and I had brought one of her favorites! What was I missing?
At that point, my jaw dropped. Unfortunately, that's all I could manage for a few seconds. "You mean????" Amie nodded. "How do you know?" "Home pregnancy test," she replied.
OMG.
So, after what seemed like an eternity (why does time always seem to slow down on such occasions?), there was a lot of whooping and hugging and more "Oh, my Gods" on my part.
We had known that they were, theoretically, "trying" (Todd had confided to Gary around Thanksgiving with an apt reference from Star Trek that "the shields were down"), so it shouldn't have been such a shock. But, I guess you don't know until you know. And, that makes all the difference.
Then we went over the events of the evening. Amie pointed out, "Didn't you notice I was drinking water tonight?" She smiled. "And, you know that phone call I had from the doctor's office? It was for the blood work." Which wasn't for her thyroid, evidently.
I had a brief flashback to the morning of Amie's birth, more than 30 years earlier. We were still two weeks away from her due date, but I was big. We had had dinner in the city with friends the evening before (at the time, we lived in a tiny row-house apartment about 45 minutes outside of Philadelphia), and had finally gotten to bed around midnight. At about 3:00 a.m., my water broke. Though still asleep, I jumped out of bed, yelling "Oh my God!" Maybe I was trying to save the mattress. Or, maybe I knew, instinctively, that our lives were about to change, suddenly and irrevocably. I don't know. Gary knocked the lamp over trying to turn it on in the ensuing confusion. And, that certainly was the beginning of a brand new era for us. Just like that moment, in Chapel Hill, when Amie "spilled the beans." We were turning another page in our lives, right then, and I knew it.
They hadn't planned to tell anyone so early. But once Amie had an inkling, and they knew they'd see us at the graduation, she wanted to be able to confirm it with the blood work so they could say without a doubt.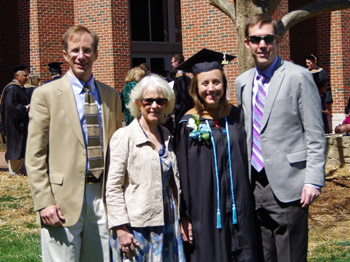 It would have been difficult for them to keep such a huge secret with all of us together the whole weekend. So, there was little to go on, as it was very early, and we agreed not to spread the word quite yet. As soon as we left their room that evening, though, Amie and Todd called Todd's folks to fill them in. Todd's siblings all have kids, so although Connie and John were, of course, excited, it wasn't quite the screaming session the four of us had just experienced. After all, we were not just talking about our own first grandchild here. We were talking about the first child in the next generation on either side of our family, and also, even more important, the first great-grandchild for Gary's mother, who, at 85, is the last of our parents still living. All told, it was very, very exciting news for our family.
And, when Gary and I got back to our own room that night, all we could say, looking at each other incredulously and grinning, was "Can you believe that?" After all, we are both 56, but neither of us looks or feels it. People are going to think Amie was a teenage bride! We giggled about our little secret, finding the whole thing hysterical. After all, we were much too young to answer to "Grandma" and "Grandpa"!
So, Amie graduated to MBA status that weekend, and we graduated to grandparenthood. And that unexpected bonus was alright with us.
Letting It Sink In
The idea that Amie was expecting began to color my thoughts. A tiny person had joined our family. We didn't know him or her yet, but we knew that there would be a lot of love. I had that thought; then, in the next moment, I realized I was excited about it—first the wonder, then the excitement, and then the waiting. It was like Christmas Eve and having to wait until Christmas morning to open your presents. I experience the same feeling when I know Amie is coming home soon (she lives in CA, so the waiting and the excitement have become a ritual). When I know I will be going out to see her, the same thing happens. It begins about two weeks before the trip and distracts me periodically throughout each day. I can't wait to hug her. But this time, for my grandchild, I have months to wait.
Portrait of Edna Cushing, in oil, by Roswell Cushing.

I thought of my own paternal grandmother, Edna Cushing (my maternal grandmother died before I was born). We were very close. In fact, she was my loving role model growing up. I knew from the look in her eyes that she thought the world of me. That look was always in her eyes, now that I think about it. It's what kept me going through my childhood and teen years; I loved to be with her. What went through her head, I wonder, when my parents told her that I, her first grandchild, would be along soon? Well, whatever it was, I am sure it is what I am feeling now. And, that knowledge adds to our relationship—that special bond between my grandmother and me—despite the fact that she died when I was 19, so many years ago. I know that sounds odd. I suppose relationships are timeless.

We were doing yard work last week. I looked over at the old playhouse and swing set Gary had built for our girls about 25 years ago.
"You're going to have to give that playhouse a coat of paint," I said. "And fix up the swing set." He looked over at me and grinned. "I think I'll need to build new ones," he replied. He was pumped.
Tonight, Gary and I were out on the deck, having dinner. I noticed that the expiration date on the soft spread was Dec132014. "12-13-14," I said. "That's Amie's birthday this year." We are a bunch of geeks and all love date-number sequence coincidences and plays on words. ("March 14th is Pie Day" [3.14]; another favorite is "May the fourth be with you!" [From Star Wars, "May the force be with you!"]) Amie's birthday falls between Thanksgiving and Christmas, so since her 17th birthday she has either been away at school or in California, just before or after a trip home for a holiday. "This year, I'll be with Amie on her birthday," I said. Amie had said at one point some time ago, "Mom, I want you to come out and give us a hand when I have a baby." "I'll be there," I replied without hesitation.
I was telling Gary all of this at dinner, and I said, "Amie wants me out there with her. It's been 32 years—what the heck do I know about babies anymore?" I laughed. This prompted Gary to say "I ain't know nothin' 'bout birthin' babies!" What?? He pulled up a YouTube video of the famous scene from Gone with the Wind (when Prissy admits, as Melanie is in labor, that she lied and doesn't know how to deliver a baby after all), followed with a spoof of the scene by Carol Burnett. It was pretty funny. So, now it's happening: birthin' babies. We'll figure it out. And, it will be around Amie's own birthday, or even earlier, around Gary's Mom's birthday (November 24th). What will our Christmas be like this year? Or Thanksgiving? We'll probably be celebrating one or both of those holidays in California. We'll have to take Mom out with us. . . . See, my mind has wandered again!
I walked out of church last week and overheard an older gentleman say, "It used to be that they got married and had babies!" I laughed and the group looked at me. I said, "I just have to interrupt this conversation, if you don't mind." They nodded, surprised. "Now it's complicated," I began. "I had been telling my daughters they could do anything—be anything they wanted to be—and still have kids. My older daughter has been married six and a half years. She's an engineer. A couple of years ago, I began telling her, 'Oh, and by the way, I had my publishing career and all, but the best thing I ever did was have you kids! Well, guess what? She just told us that she's pregnant! So, it will happen in its own good time. But yeah, today things are complicated." They laughed, offered their congratulations and wished me well. "Have a great day!" I said, chuckling, and headed for the car.
Last week, I was perusing Dr. Dan Gottieb's book, Letters to Sam: A Grandfather's Lessons on Love, Loss, and the Gifts of Life, looking for a chapter to reprint in this issue of Empty Nest (which Dan is nice enough to allow). In case you're not familiar with the book, Sam is Dan's grandson, who is autistic. Dan wanted to capture his own thoughts on paper, to pass them on to Sam. The book is set up as a series of titled "letters." It's full of beautiful insight, especially considering its intergenerational nature. It's truly amazing how I can always find just the perfect chapter, either to represent the season or what's going on in my life at that moment.
In my search, I usually flip through the book beginning near the middle. Last week, however, I decided to start at the very beginning. I read the book from cover to cover a few years ago, but for the life of me, I couldn't remember how it started. I saw that the first chapter is titled, "Your Birth." Enough said. You can read it in its entirety in this issue. Let's just say my jaw dropped (for the second time in weeks) when I realized what a treasure that chapter is, particularly now. I don't remember reading it earlier because I couldn't relate to it. But now all of that has changed.
I emailed Dan with my news. His reply was, "Oh, Robin, Mazel Tov!" (In the Jewish faith, this means more than good luck; it's a blessing. From the web: "May this drip of inspiration from your soul above not dissipate, but rather have a positive and lasting effect, that from this event onward you should live your life with higher consciousness. You should be aware of the blessings in your life and be ready to receive more and more." Wow, that was nice.
Telling Grandmom (and Everyone Else)
We promised Amie we'd keep mum about her secret until she was further along. Plus, she wanted to tell Grandmom herself.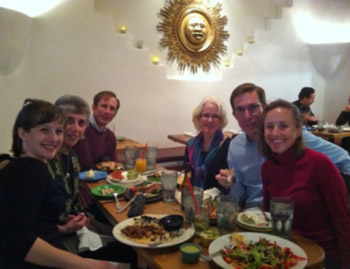 (It was tough not to slip at Easter dinner, which Gary's Mom hosted just two weeks later.) However, as soon as we got home from Chapel Hill, I immediately texted my friend Ellen. We get together for coffee every few weeks; this week would need to be one of them. I could barely contain myself as we sat down with our cups in Starbucks. "Guess what???" I did the same thing, eventually, with my other close friends, telling them by phone or in person (no email for this news!), and of course, they could always guess!
The day after Easter, Todd ran the Boston Marathon. It went very well for him (he came in at about 8,000 out of 35,000 runners). That brought Amie and Todd to the East Coast once again. They planned a trip to Philadelphia for later in the week, which happily coincided with a concert in NYC, on Friday, where our younger daughter Sarah would be singing. The plan was for Grandmom to join us at the house to drive up to the concert and for Amie and Todd to tell her at brunch, before we left. Then we'd all celebrate with Sarah. After the meal, Todd brought out a baby "onesie" emblazoned with the MIT logo (their alma mater), which they had just purchased in Boston that week, and showed it to Grandmom. At first, she didn't get the connection. She thought they would be putting it away "for the future." After a moment, though, she caught on, and the look on her face was priceless. "Wow, wow, wow! I never thought I'd see the day!" she exclaimed.
That weekend, Amie sent a video of Grandmom's reaction to the extended Bonner family with a short note. Congratulations came pouring in. That week, I called my side of the family with the news.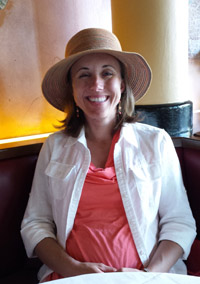 Until after the first trimester, Amie and Todd limited whom they told to just a few colleagues and friends. Once they knew things were going well, they announced it to "the world" via Facebook.
The weekend Amie was home, she suggested that she and I spend a day in King of Prussia shopping for maternity clothes. Our jaunt through the mall was preceded by our usual lunch at the Cheesecake Factory (but sans the Cosmos). With that trip, I think we were gingerly testing the waters. (I kept thinking, "Is this odd, or what?") As we approached the maternity department of Macy's, I was hoping Amie wouldn't freak out at the frumpiness of the styles. I attempted to prep her by saying, "You know, you can probably get away with wearing looser "normal" clothing for a while, so don't get rid of any larger pants or shirts you may already have. I didn't wear maternity clothes with you until I was six months along." (I couldn't even believe I was saying these things to her; the words sounded so strange!)
But, I was pleasantly surprised by how cool maternity clothes look these days. They actually show off the "baby bump" rather than hide it. And, as Amie tried on dress after dress, shirt after shirt, and pair after pair of pants, I thought, "She's going to look great in this stuff!" I think she thought so, too. Ah, what a relief! And, as Amie tried things on, everything seem much more real, especially since the dressing room sported a pillow "bump," complete with a belt to tie it on with, so you can get an idea of what each article of clothing would look like with a real bump under the fabric. What fun! It was a special day—a real bonding experience for us as we both sought to get used to the whole idea.
Looking Ahead
It's been two months since we first found out we were going to be grandparents. Although the names "Grandma" and "Grandpa" still sound foreign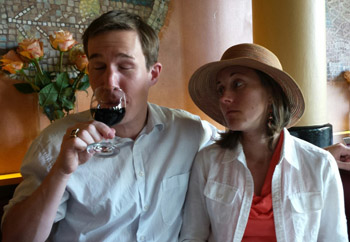 (how about "Mom-Mom" and "Pop-Pop"???), life is fuller, rosier, so full of hope. (And here I thought life was just fine the way it was.) Time is marching along for us. I think we all have a greater sense of direction and purpose. I need to get the house in order, write that book, save for airfare, PLAN A SHOWER!
Amie and Todd are preparing for the major changes ahead, and the rest of us are anticipating our new roles. (Sarah has been trying "Aunt Sarah" on for size.)
As for me, I'm just enjoying becoming a grandmother—loving what that means as each new day unfolds. As each week brings me closer to the gift that is the birth of my first grandchild, I marvel at how much it will change my life, and how much things have already changed.
---
Robin Bonner is editor of Empty Nest. For more about Robin, see About Us.