Wedding Bells at a Distance
Planning a Destination Wedding—Conclusion
By Robin Bonner
For the first two installments of Planning a Destination Wedding, please see:
Part 1 in the Spring issue
Part 2 in the Summer issue
After the Shower

After we threw a surprise bridal shower for Amie in Pennsylvania in July, it was all about successfully launching the massive project that was Amie and Todd's wedding in Maine in October. This was harder than it sounds. (After all, what do you imagine could happen between July and October?) The answer to how to do it is this: Make lists. Pages and pages of lists. We needed to get organized so nothing was missed, no detail was overlooked, nothing was left behind.
I spent about a month or more after the shower stockpiling receipts for various purchases that had to make it onto the spreadsheet and generally assembling parts of the wedding jigsaw puzzle in an effort to make it all come together, to see what still needed to be done, now and later. I needed a timeline. I also needed to track what to pack in the car. (We planned to rent a minivan to move our luggage, Grandmom and her luggage, the wedding dress, Sarah and my dresses, all the favor stuff, all the welcome bag stuff, my guitar—more about that later—and so on. Our Subaru station wagon just wouldn't fill the bill.)
Occasionally during the late summer, these thoughts came to me: It's up to me to keep this thing on track, to get it organized, to make it happen. I can't forget anything important. Blaming someone else won't fix the problem in the end. I've managed a lot of publishing projects, but somehow this is different. This is my daughter's wedding! Such pressure! It was life or death. Of course, the message I fed Amie daily was, "Amie, honey, we all have to remember to have a good sense of humor the day of the wedding. Everything probably won't go as planned (because things never do). You're not to worry about anything that day, though—Dad and I will take care of everything (this to Amie, who had orchestrated the whole thing; I hardly think she believed me). The task that loomed up in front of me was daunting indeed.
In an effort to get on track, I made the decision to quit a part-time job that was creating a lot of negative energy and static in my life. I transitioned into my other part-time job on a full-time basis. I maintained my side business by taking on and training more freelancers—managing the process more and doing less of the work myself. Through it all, though, I was trying to create a space where I could be there for Amie, to help her pull off a fabulous wedding 3,000 miles away from where she was living (and 600 miles away from where I was living). Being organized, resourceful, and flexible was now key.
All the while, wedding-related emails and phone calls began to increase. Amie was on the road for her job, she and Todd had just purchased and were trying to furnish a house, and they had adopted two kittens. Our collective lives moved in various stages of complexity. There was an ebb and a flow to it all, and we all concentrated on making the wedding happen. This was the formality, the ceremony, that would cement their lives together, and our family with Todd's. We moved through August taking care of details: Ribbons for the favors were no longer available from Michael's Arts and Crafts in the exact teal to match the bridesmaids' dresses—would Amie consider other colors? We agreed to be flexible and do what we could to wrap up details at this point.
Invitations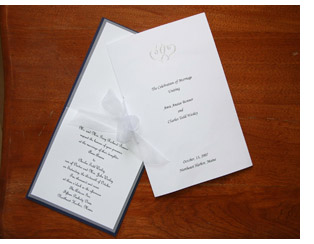 Since he was a young boy, Todd had enjoyed doing calligraphy, so he offered to letter the envelopes for the invitations. Todd and Amie chose a charming square invitation bordered in navy blue but sporting an embossed floating silver heart at its center, on a small square of white. The champagne glasses they selected earlier (that they would sip from at the reception) sported the same heart.[photo of invitation cover and inside here]
With Todd doing the lettering, it made more sense for Amie and Todd to assemble the invitations and mail them from California. I had harbored thoughts of me painstakingly, proudly writing out the envelopes, and Gary and I methodically, lovingly assembling the packets (for that is what they were, with directions, info sheet, invites to multiple events, and the main invitation itself), but I was glad in the end to turn all of that over to Amie and Todd. There was just so much else to do!
Dresses and Shoes
Amie went for her fitting at Mon Amie Bridal Salon in Santa Monica in July. Although I was sorry not to be able to be there, as I had been when she picked out the dress in February, this opened the space for Amie and her friend Amanda to spend some time doing that special task together. We did some shoe shopping when Amie was home in July, which served only to help her narrow her taste to a few particular styles but not to close the deal and buy the shoes. That she did on a business trip in Texas the following week. The result was a lovely pair of open-toed pumps that perfectly complimented her sheath-style lace dress. (It's nice to be able to disclose details about the dress now that the wedding is over and Todd has seen it. It was hard to keep it a secret!)
Sarah (Amie's sister and a bridesmaid) and I had our work cut out for us. We picked up Sarah's dress and made arrangements for alterations, but Sarah also needed shoes. After some discussion about Amie's rule that the bridesmaid's shoes should be low-heel, while her own shoes would have very high heels (to make up for the disparity in height between Amie and her bridesmaids), Sarah chose a pair of sandals that could be dyed to match the dress (this had changed from the silver sandals decided upon earlier).
I knew my own dress shopping would be a hassle. After eying up some sheath-style beaded designs in Country Bride and Gent, I settled for something completely different at David's Bridal: a simple A-line sleeveless satin dress in dusty rose with a beautiful jacket to match, with three-quarter sleeves, padded shoulders, and a single silver clasp at the waist. It fit nicely and would only need to be hemmed—a relief after all that work at the gym over the past year! Sarah helped me immensely when it came time to make the decision. She said, "Mom—it looks good on you. Get it." And I so did. Something else to cross off the list.
I called Connie Wesley, Todd's mom, to report the color and style of my dress (I didn't stand too much on ceremony with these things and didn't really care if we ended up with the same color dress, but we were going through the motions, anyway). Connie reported having chosen a beaded chocolate-brown dress; when I finally saw her in it, I thought she looked stunning. The moms were set! Grandmom revealed her choice of dress color?plum ?and I called Laurie at Cottage Flowers about mine and Grandmom's and sent swatches. I really wanted flowers that tied into Amie's bouquet rather than the bright colors the bridesmaids would be carrying. Laurie said she'd see what she could do. (In the end, she used pink calla lilies, much to my delight. Both Amie and my dear grandmother carried calla lilies on their wedding day.)
The Guest Book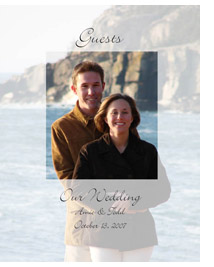 In early September, Gary had a brainstorm: Let's create a custom guest book! (He found a company, lulu.com, that would publish a bound version for a reasonable price if he supplied files of laid-out pages.) Um, I said, isn't it a little late to begin a project like that? "Plenty of time" was his reply, and I felt my stomach knot. I had way too much on my mind to begin a wedding-related publishing project. So, I bought a wedding memory and guest book at the Hallmark store, just in case. In the end, it came in handy to use as a reference for its content.
Each page of Gary's book displayed a stunning photo taken on one of our trips to Maine during Amie and Todd's engagement. The image was reflected on the opposite page, but screened down, with the effect of a shadow. Text was set on right-hand pages only. We worked through some design issues (Gary and Amie got me on board eventually), and the end result was striking, I'll have to admit, and well worth the hassle. Gary personalized the book with Amie and Todd's names, the wedding date, names of the bridal party, and special pages for signing at the wedding itself, the party in Spring Mount thrown by us, and the party in Vernon Hills (Illinois) thrown by Todd's parents. It was amazing. Because he sent the files fairly close to the deadline for shipping in time for the wedding, Gary also ordered a paperback copy (which took less time to print) as a back-up and had the hardback shipped directly to the Asticou. The guest book can be previewed here.
continued in part two…